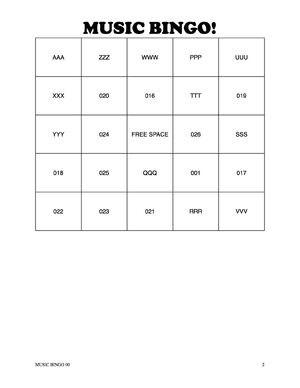 Play 25-30 seconds of patient-preferred music that correspond with songs or artists in bingo boards with enough variations for every group member. Establish rapport, talk about music, music preferences, related experiences, etc., and open-up group dialogue (Silverman, 2010). Movie soundtracks and TV themes may be included. You can prepare short music mp3 clips to walk freely around the room and assist the group or manually select songs for more control of the game.
Resources
Edit
Download free templates for Mac or Windows to make your own Music BINGO sheets. The template lets you plug in a playlist and immediately produces 26 unique but equal playing sheets (Riley, 2012).
Download the following Music BINGO sheets to print, prepare the music playlist, and play!
File:Black History Month Bingo.pdf
File:Love Songs Music BINGO.pdf
References
Edit
Riley, James E. (August 16, 2012). (Make your own) Music BINGO!. [Web log comment] Retrieved from http://themangomuse.blogspot.com/2012/08/make-your-own-music-bingo.html
Silverman, Michael J. (Speaker). (2010). Psychiatric music therapy: interventions in acute care settings. [Audio podcast]. Podcast retrieved from http://amtapro.musictherapy.org/? p=368#
Further Reading
Edit
Rambach, Rachel. (October 2, 2008). iPod Bingo. [Web log comment]. Retrieved from http:// listenlearnmusic.com/2008/10/ipod-bingo.html
Strutzel, Michelle. (December 7, 2010). Music Bingo. [Web log comment]. Retrieved from http://beyondthemusicmt.blogspot.com/2010/12/music-bingo.html
Contributors
Edit
James E. Riley, MT-BC
Community content is available under
CC-BY-SA
unless otherwise noted.