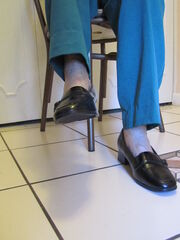 Help patients wake up, especially if withdrawing or adjusting to new medications. Getting into your body also gets you out of your negative or obsessive thoughts. Perform exercise seated in chairs if safety, state, or effects of medication are at all an issue to consider. Stretch to soothing music. Hand out streamers and bandanas to move to upbeat music. Lift legs. Circle arms. Dance! Allow patients to make up their own movements to music for group to repeat. You can also use some video games such as Just Dance to make everybody have fun dancing.
Cevasco, Kennedy, & Generally (2005) implemented: "locomotor movements (movements involving the feet: i.e., the grapevine, sliding, stepping forward/back/side-to-side), nonlocomotor movements (movements during which the feet remain stationary), movements incorporating hand-eye coordination, body percussion, stretching, Latin dance movements, line dances, movements incorporating client improvisation and self-expression, and seated movements, all of which were performed at parallel or cooperative play levels; scarves, paper plates, and balloons were used in several movement activities."
Activities
Edit
Step Rhythmic Activity:  This activity focuses on increasing movement through learning a rhythmic sequence with the whole body.  This activity can be used with individual clients or within a group session.  Any recording of a song in 4/4 time can be used depending on patient's preferred genre of music, and the tempo of which the patient can successfully do the step rhythmic sequence (i.e. Bill Wither's "Lean on Me," Zach Brown Band's "Chicken Fried," Otis Redding's "Sitting on the Dock of the Bay," and Timbaland ft. OneRepublic's "Apologize").  Teach the following sequence by rote and in chunks until the client is successful.  Note: Stomp means to stomp one foot, and the suggested foot is marked in the second line.  Clap means to clap both hands together.  Cross means to cross one hand and opposite foot behind the individual until the hand touches the foot on the beat indicated (i.e. right hand is behind the back and left foot (or leg) is behind the person's back, and the hand touches the foot).  Teach and rehearse until client(s) are successful and can do it in the tempo with the chosen song.File:SRA Sequence.pdf
Resources
Edit
References
Edit
Cevasco, A. M., Kennedy, R., & Generally, N. R. (2005). Comparison of movement-to-music, rhythmic activities, and competitive games on depression, stress, anxiety, and anger of females in substance abuse rehabilitation. Journal of Music Therapy, 42(1), 64-80.
Further Reading
Edit
Contributors
Edit
Addison Lucas
Katie Myers
James E. Riley, MT-BC
Elaine Vuong, MT-BC
Community content is available under
CC-BY-SA
unless otherwise noted.