Jurassic World: Dominion Dominates Fandom Wikis - The Loop
Play Sound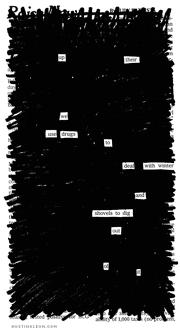 Blackout poetry is a form of poetry in which the patient takes a pre-existing work or lyric, for the purposes of the music therapist, and crosses out or "blackouts" the undesired words leaving a new poem of the patient's creation. This is an excellent way for the patient to express their own feelings in a error-free manner, and still allow for the individuality of each patient. Longer songs are recommened as that allows for more possible options, however it is recommened to use shorter songs if the patient needs to be limited due to their capacity to handle such tasks.
It should be noted that grammar will not always be perfect and stress the need to allow interchange of words, for example in the picture of "winter" the word "their" is used in place of "there." The patients should be reminded that it might not work out perfectly, they should be more focused on the message not perfect English, if for some reason they need it to be perfect English the patient can add the needed words in the margins and include the words that way.
Activities
[
]
Blackout Poetry Songwriting: Use the finished poems to write original songs. If used in a group context, perhaps combine sections of each poem.
Resources
[
]
Green Book of Songs is a massive thematic guide to popular songs. Search by topic rather than keywords and refine your search by genre or "hits only." Save 40% and pay only $5.95 for an annual subscription with the coupon code: musictherapy (Erfurt, 2011).
Songfacts enables you to search for songs by category.
SongMeanings is a great website to search for song lyrics and read user submitted comments such as lyric interpretations, song or artist contextual information, or explanations of references, terminology, etc.
Song about mental illness from a Depression Wiki.
References
[
]
Erfurt, Michelle. (December 19, 2011). Song index: Green Book of Songs. [Web log comment]. Retrieved from http://musictherapytween.com/2011/12/song-index-green-book-of-songs.html
Further Reading
[
]
Contributors
[
]
Daniel T. Evans, BME
James E. Riley, MT-BC