Please complete this brief survey. MusicTherapyActivities.Wikia.com is a resource for Board-Certified Music Therapists (MT-BC) who are uniquely trained to provide music therapy services of any kind. This website also aims to educate students, patients, families, employers, contemplative non-employers, and the general public. Please read the Music Therapy Activities Wiki homepage for more information.
Active music making is defined as the creation of live music by the patient involving any means of intentional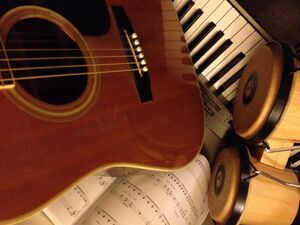 sound production that does not involve the voice. Music making includes all instrument playing and body percussion, music lessons and music ensembles, and also improvised, written, or rehearsed music.
Offer various levels of structure and difficulty while attending to individual differences in musical ability, level of functioning, or side effects of any medications. "Some of the main goals of this session are to help the clients maintain connecitons within their community, to practice simple social interactions, to stay focused on a structured task of playing the music, to develop healthy leisure skills that can add quality to everyday life, and to enhance self-esteem... practice and role-play social interactions, maintain good reality orientation, follow through on requests, and practice appropriate expression of feelings and other important behaviors" (Gfeller and Thaut, 2008).
For some Active Music Making activities, it will be beneficial to expand your Repertoire.
Activities
[
]
Body Percussion: The human body is the original instrument. You always have your body with you, anywhere and anytime you want to make music.
Boomwhackers: These musical tubes are brightly colored and easy to play. Groups can "rumble," create simple ostinatos, learn songs, and build songs.
Communication: Music is a form of communication which enables exploration and expression of feelings, without the necessity of words. 
Drumming: What a huge world of possibilities!
Hand-Bells: Hand-Bells are color-coded, easy to play, and provide opportunities for many creative group ensemble activities.
Music Lessons: Music lessons can build a therapeutic relationship, offer control and a sense of mastery, provide realistic challenges, prepare students for music ensembles with their peers, and can also round out your private practice or professional role.
Nature Sounds: Individuals will imitate sounds from nature and discuss musical and non-musical elements to make transfers to therapeutic goals.
Therapeutic Music Improvisation: Therapeutic improvisation can be used to develop musical responses, appropriate musical behavior, appropriate extra-musical behavior, and verbal expressions of experienced thoughts and feelings.
Resources
[
]
References
[
]
Gfeller, K. E. and Thaut, M. H. (2008). Music Therapy in the Treatment of Behavioral-Emotional Disorders. In Davis, W. B., Gfeller, K. E., and Thaut, M. H. (3rd Edition) An Introduction to Music Therapy: Theory and Practice (209-246). Silver Spring, MD: The American Music Therapy Association, Inc.
Further Reading
[
]
Strutzel, Michelle. (May 5, 2010). If You Have An Instrument. [Web log comment]. Retrieved from http://beyondthemusicmt.blogspot.com/2010/05/if-you-have-instrument.html
Strutzel, Michelle. (May 27, 2010). A therapeutic guitar lesson. [Web log comment]. Retrieved from http://beyondthemusicmt.blogspot.com/2010/05/therapeutic-guitar-lesson.html
Strutzel, Michelle. (July 12, 2010). Tearing down and rebuilding. [Web log comment]. Retrieved from http://beyondthemusicmt.blogspot.com/2010/07/tearing-down-and-rebuilding.html
Contributors
[
]
James E. Riley, MT-BC
Evelyn Pinder, MTI
Katie Myers, MT-BC